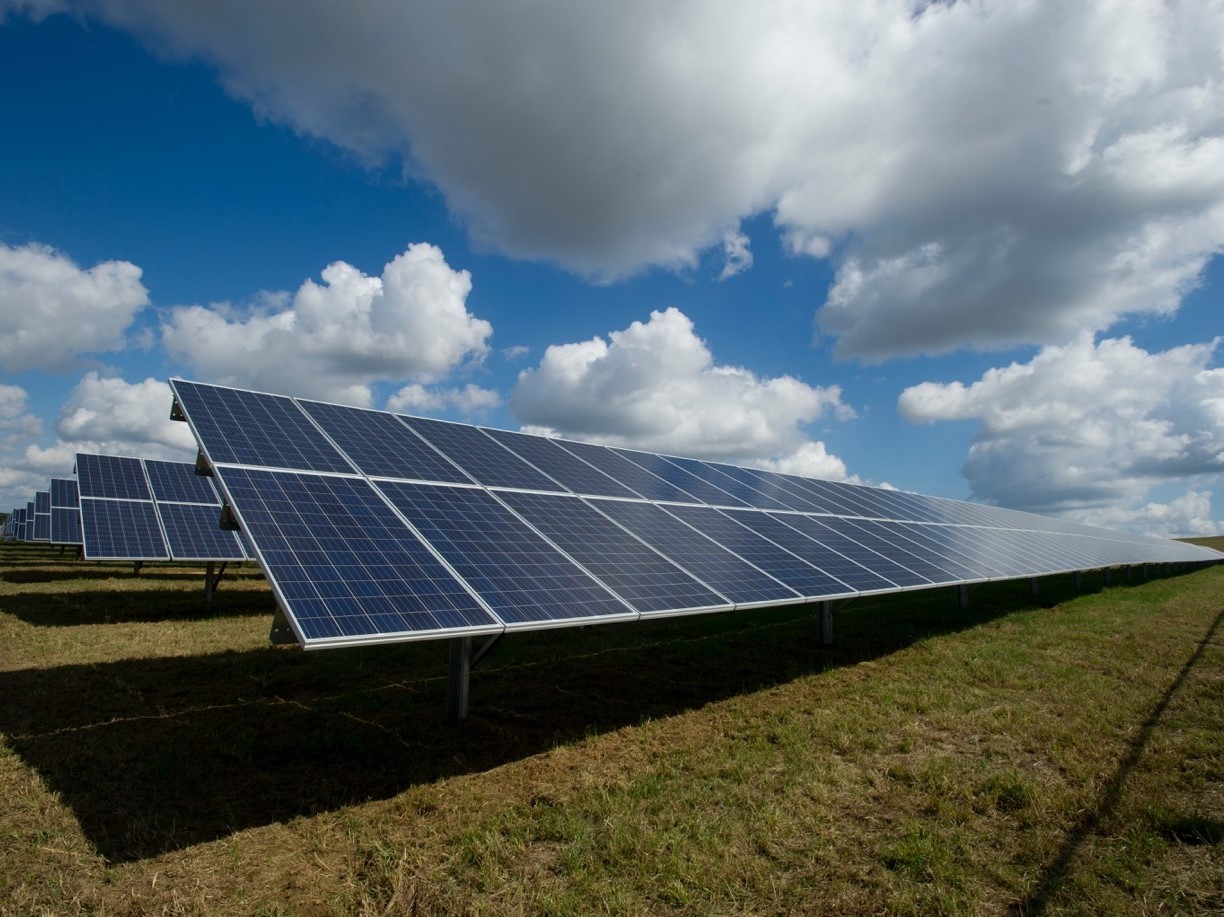 Solar-Log has been designing infrastructure for living spaces with a future, since 2007.
Having started with PV system inverters, Solar-Log today enables companies worldwide to efficiently and profitably manage the energy of their photovoltaic systems with reliable monitoring, and high-quality "Made in Germany" products.
The company provides key solutions for smartly networking, digitally controlling, and transparently displaying renewable energies.
The Solar-Log products make a significant contribution to the successful integration of renewable energy sources into an intelligent power grid, by connecting PV power systems with power devices and the power grid.
meteoblue has been supplying the weather data for the PV systems monitoring and forecast, as indicated here.
Customer success story:


Solar-Log and meteoblue: A Partnership Shining Bright for a Sustainable Future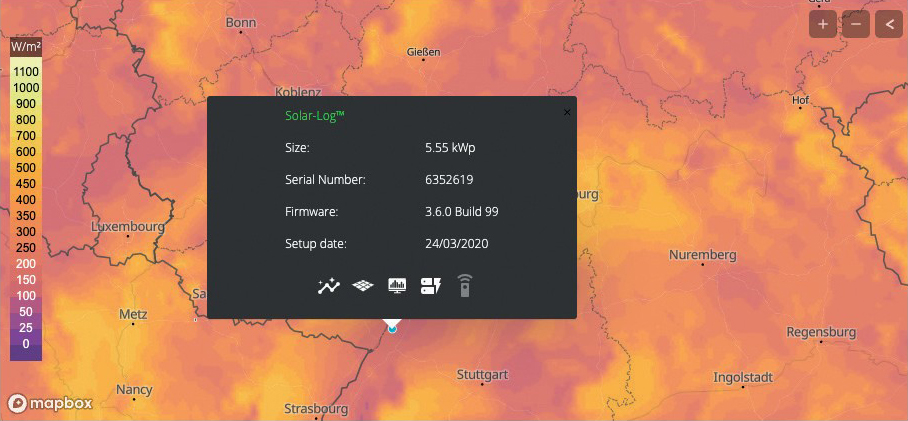 Solar-Log, a pioneer in solar energy, has been working together with meteoblue, a leading weather forecasting company, to create innovative solutions for the efficient management of photovoltaic (PV) systems.
This collaboration has led to exceptional results in monitoring, energy trading, and the development of new weather modules, resulting in better energy management and environmental protection.
Over a Decade of Collaboration and Innovation
Since the early 2000s, Solar-Log has been at the forefront of solar energy, recognising the growing importance of alternative energy sources amidst finite fossil resources and increasing energy demands. Solar-Log has continuously pushed the development of innovative and customer-specific energy system solutions, ensuring an independent power supply with photovoltaics. As an independent partner, Solar-Log offers reliable monitoring and high-quality products to assist companies worldwide in managing their PV systems efficiently and profitably.
meteoblue, known for its top-precision weather forecasts for any location on land or at sea, has been a trusted partner of Solar-Log for many years. Solar-Log relies on the meteoblue accurate PV power forecasts, site analyses, and services for energy trading, to deliver exceptional solar energy solutions. This collaboration has allowed both companies to combine their expertise, creating cutting-edge solutions in solar energy management and weather forecasting, and contributing to the global transition towards renewable energy.
A Growing Partnership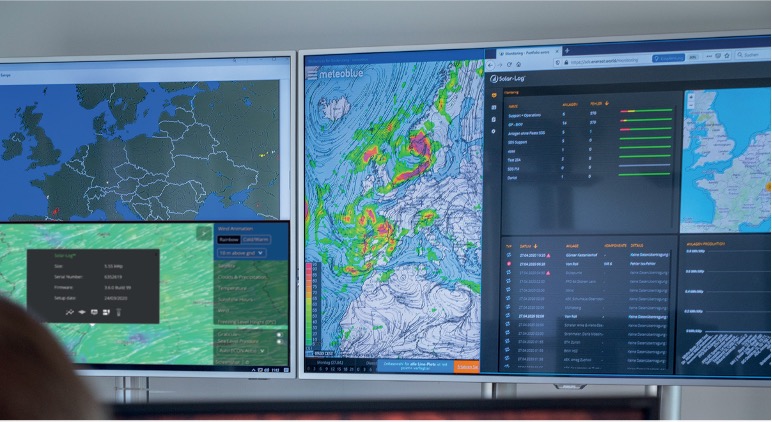 The partnership between Solar-Log and meteoblue has led to exciting projects, such as the development of a new weather module. This module helps improve the operation and maintenance of PV systems by providing weather maps and risk indicators, linking specific error messages to weather events such as thunderstorms, gales, snow, or Sahara dust. The weather module not only enhances the performance of solar plants but also allows for more informed decision-making, prevention of unnecessary maintenance, and cost savings for solar energy operators.
Furthermore, the weather module incorporates the meteoblue advanced forecasting technology, ensuring accurate predictions that can be utilised for other applications, such as energy trading and grid management. As the demand for solar energy continues to grow, the ability to accurately predict power generation and efficiently manage energy production will become increasingly important to the success of the renewable energy industry.
Initially focused on PV monitoring, the collaboration between Solar-Log and meteoblue has expanded as Solar-Log has evolved into a provider of comprehensive solutions for renewable energy. This partnership has also benefited meteoblue via more accurate PV power data forecasts, further enhancing its services. The collaboration has not only led to the development of new products and services but also fostered a strong working relationship between the two companies, allowing them to tackle complex challenges and explore innovative solutions in renewable energy.
meteoblue contributes to this by providing highly reliable weather data and visualisations delivered via an Application Programming Interface (API) with data availability reaching values close to 100%. To achieve the best possible data quality, meteoblue uses machine learning to combine over 30 weather models with measurement and observation data. This approach has allowed meteoblue to reduce error rates by up to 30%, resulting in more precise PV reference yield calculations and improved radiation forecasts.
meteoblue is renowned for its commitment to research and development, which has led to the creation of advanced weather forecasting technology, as mentioned above. This benefits not only the solar industry but also a wide range of other industrial sectors, including aviation, agriculture, or transportation. The company's dedication to quality and innovation has made it a preferred choice for businesses that require accurate weather-dependent decision-making.
Shaping a Greener Future Together
The ongoing partnership between Solar-Log and meteoblue highlights the power of collaboration and innovation in advancing renewable energy solutions. As both companies continue to grow and develop new technologies, they pave the way for a sustainable future that benefits the environment and helps secure the world's energy needs.
Solar-Log and meteoblue serve as an example of how strategic partnerships can accelerate progress in the renewable energy sector. By combining their expertise, they have not only improved the efficiency and profitability of solar energy systems but also contributed to the global transition towards cleaner and more sustainable energy sources.
As the world faces increasing challenges related to climate change and resource scarcity, the importance of renewable energy solutions cannot be overstated. The collaborative efforts of Solar-Log and meteoblue are instrumental in addressing these challenges, providing innovative tools and technologies that enable businesses, governments, and individuals to harness the power of the sun more effectively.
In the years to come, the partnership between Solar-Log and meteoblue is expected to yield even more ground-breaking solutions. These advancements will contribute to the ongoing transformation of the energy landscape and help create a more sustainable future for generations to come.
Ultimately, the success story of Solar-Log and meteoblue demonstrates that through collaboration and a shared commitment to innovation, businesses can have a significant positive impact on the world. By working together and pushing the boundaries of technology, companies like Solar-Log and meteoblue are not only securing their own success but also driving the global transition towards a greener, more sustainable future.