meteoTV is a digital signage service by meteoblue, designed for displaying weather information on publicly available screens. With meteoTV, you can present meteoblue forecasts on your screens (computer or TV), with continuous automated updates.
This service is useful for screen displays in public places, such as offices, hotels, shops or malls, as well as on private screens. meteoTV is available for every location in the world and it is completely free of charge. meteoTV supports the most popular screen aspect ratios (such as 16:9). meteoTV enables you to display our most popular forecast formats. It is also customisable in order to match your target audience.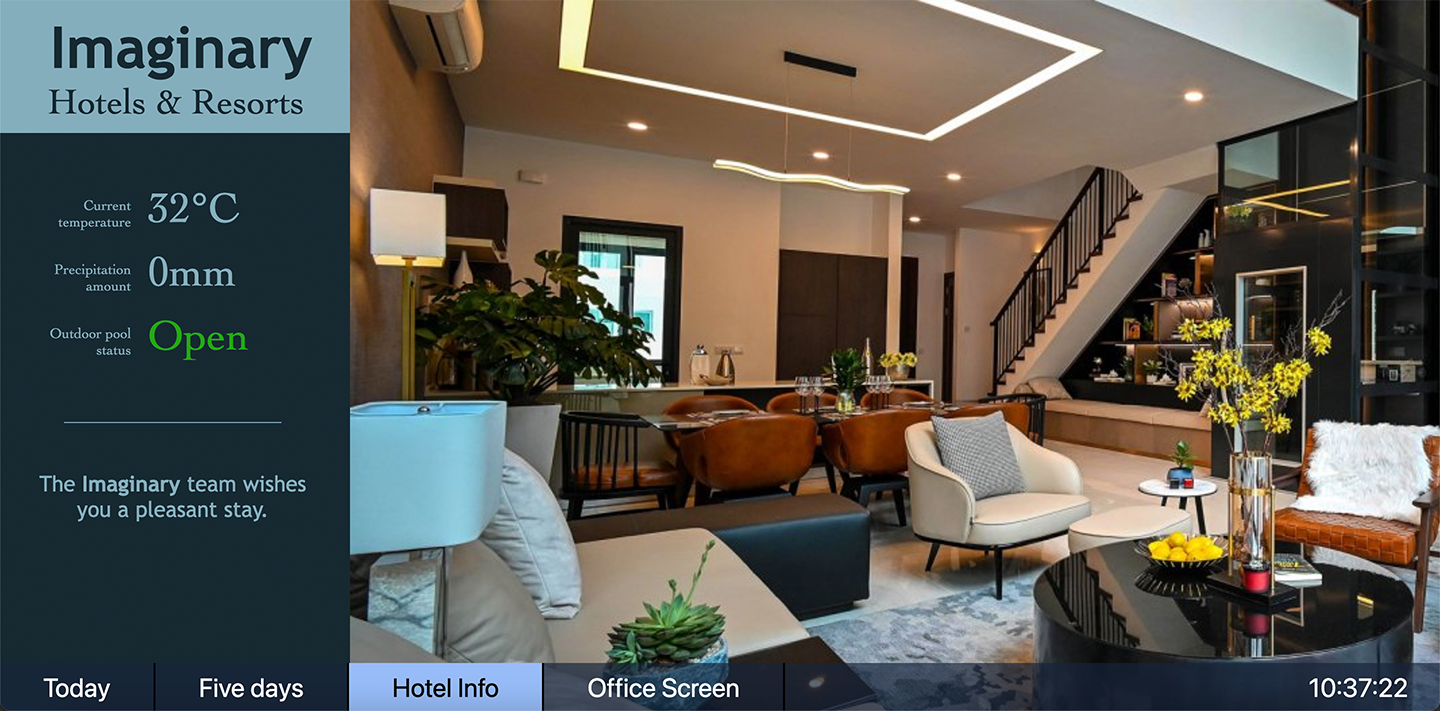 How to use meteoTV
To get started, you need:
A meteoblue account
A computer screen or a TV
A web browser installed on the screen
An uninterrupted internet connection
A one-time configuration (see below)
Recommendation:
Use a PC and connect it to your TV because SmartTVs will not always support all features. With that, your screen will show continuously updated precision weather forecast information for exactly your location.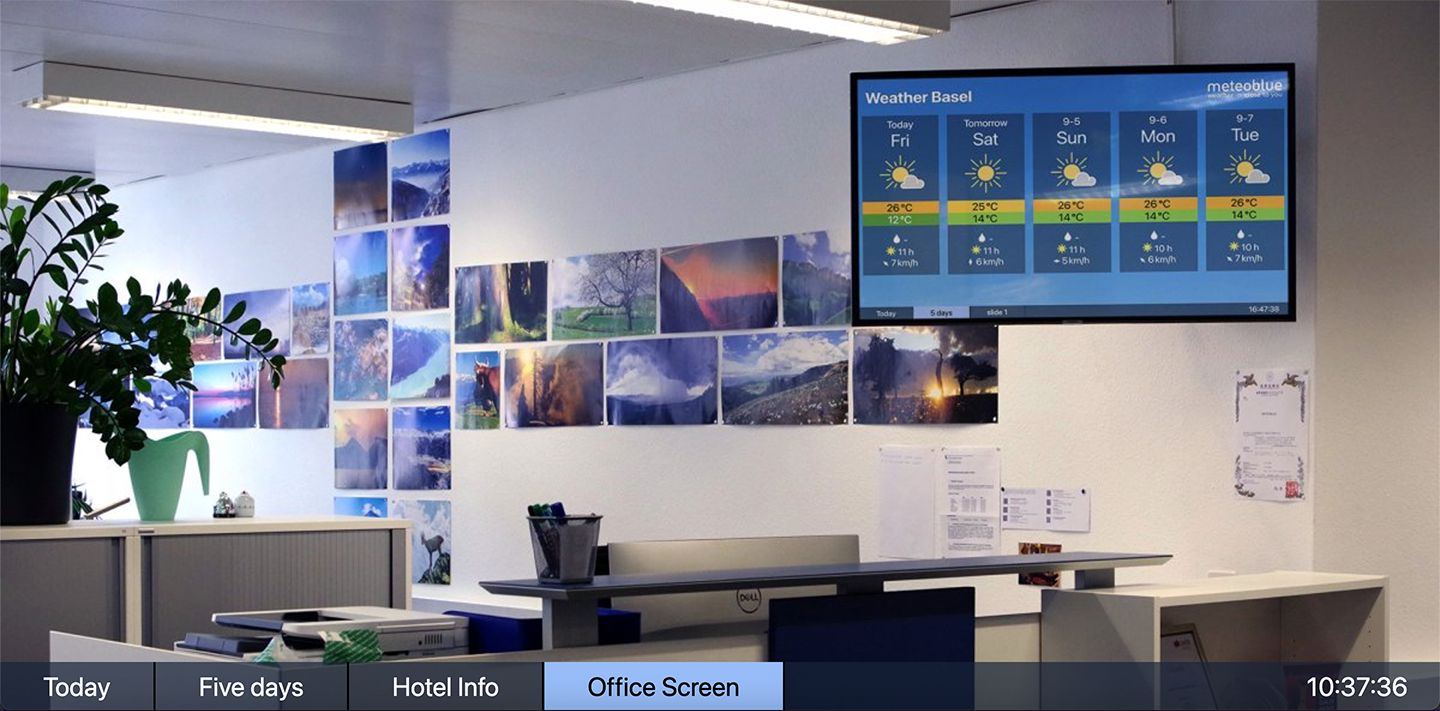 Configuration
The configuration is simple and straightforward:
Open the configurator.
Find your location with the global location search.
Insert the content of your custom slides, in case you intend to use them. (These slides will display only the content you insert, not meteorological information by meteoblue. Therefore, they are suitable for instance for your logo, slogan, other marketing materials, or any information relevant for the viewers.)
Insert a name or a description of your meteoTV. This is particularly useful if you decide to create more than one meteoTV, for instance for multiple facilities or locations.
Select the duration per forecast slide. (The number is in seconds.)
Select the background colour for your custom slides (if you decide to use them.)
Select the font colour of your custom slides (if you decide to use them.)
Tick the weather data slides you would like to be displayed. The options are as follows:

Include a forecast for today in your meteoTV
Include a 5-day forecast in your meteoTV
Include a weather radar view in your meteoTV
Include a satellite view in your meteoTV

Click "Submit" to save your meteoTV. This will take you to the "Account overview" page.
On your account overview page, click on the tile "meteoTV".
In the section "Your meteoTVs", select the one you just created.
Click on "Show".
This will open a new window in your browser. This is the URL for your meteoTV. You can share this URL on the screen or TV display of your choosing.
You can also open, edit and delete your meteoTVs in your account settings at any time.
Conditions of usage
The information presented by meteoTV must not be collected by machine/bots and not be stored on other devices.
The information presented by meteoTV must not be used to create your own products or visualisations. For such purposes, meteoblue offers a weather API.
The user must accept and follow the meteoblue general terms and conditions.