meteoblue forecast combines more than 25 different weather model to achieve the worlds leading precision
Various state-of-the-art technologies are applied to combine latest observational data and weather models to achieve highest accuracy
Post processing using measurements of more than 100'000 weather stations for calibration statistics and artificial intelligence algorithms
Accessing high resolution data within milliseconds for any location worldwide
Using the meteoblue weather API for easy integration of data and graphics into your system or website
High resolution weather models assure accuracy in complex terrain
Meteograms and other images make complex decisions really easy
Various weather variables as 15min, hourly, 3 hourly and daily values from 6 to 14 days ahead
To improve the scheduling of your business activities trust on more than 10 years of expertise and the best weather forecast worldwide.
Forecast Products
Images (graphics)
meteoblue offers thousands of images from different categories, that can easily be integrated into your web application. These images can be individually customised as they are available in many languages for any location on Earth.
Meteograms
meteoblue offers a wide range of meteograms, that give an overview of the general or specific weather of the next days. These can be used for general or for special purposes like agriculture or solar energy. Some of our most common meteograms are:
More meteograms can be found with the "More information" button below
Cross section
meteoblue offers the cross-section functionality, that give an overview of the weather along any specific track worldwide.
where2go
meteoblue offers the where2go functionality, that help you to find the best weather spot for your day trip within a certain distance range.
Seasonal forecast
Seasonal forecast images show the regional anomalies for the next 6 months for areas of 100km by 100km or larger.
Weather maps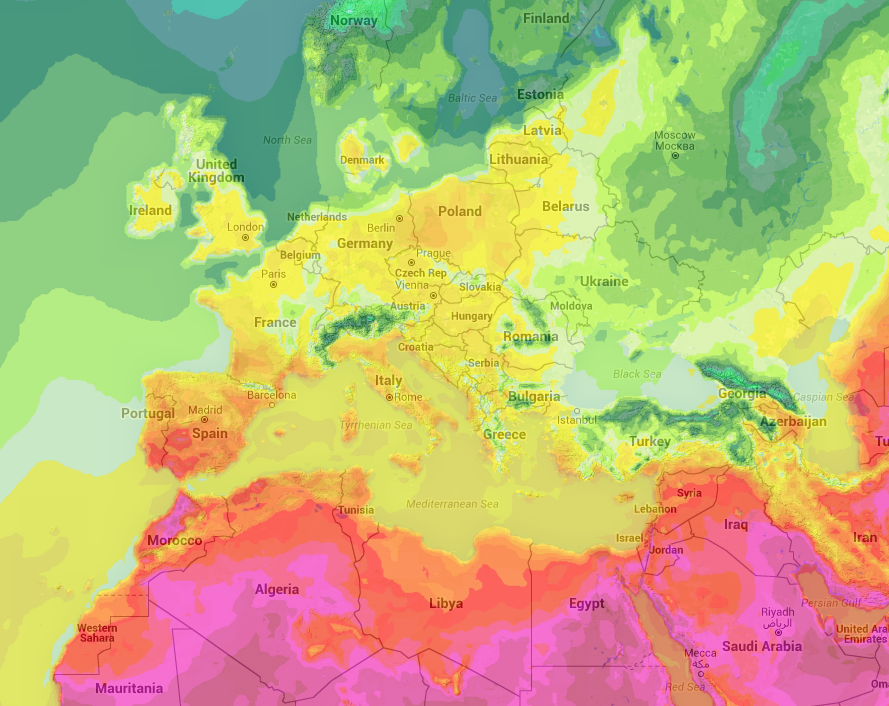 meteoblue offers various layers of our weather maps, that can easily be integrated into your website or print media. All maps are available through the meteoblue API and on the meteoblue website. The meteoblue API delivers the maps as graphics in PNG format that have to be implemented on a map (for example GoogleMap). Very often requested are the following layers:
More map layers can be found with the "More information" button below
Data packages (raw data)
meteoblue offers various weather variables that are grouped into data packages. There are different data packages for specific use cases. Find some examples below:
More data packages can be found with the "More information" button below
Prices
Various weather maps as well as a wide range of images (meteogram 5 days or the meteogram AIR for 3 days) are offered for free on the meteoblue website, other weather maps and images are part of the point+ subscription.
If you need more information and prices of the data packages, images or weather maps for business purpose, please send us a request to info@meteoblue.com (or click on the "contact us" button below) with the following details:
Desired data package/image/weather map:
Transmission: (API or FTP)
Approximate number of daily request: (e.g. number of locations x number of daily updates)
If you want to test the meteoblue API for free for 14 days, please also provide the organizational details:
Company name:
Address (street, postal code, city, country):
Website: (if available)