meteoblue history interfaces are giving access to hourly data since 1940 from more than 30 different sources
Daily updates and year comparisons allow operation strategy assessment up to the current day
More than 30 different datasets including measurements, observations, simulations and environmental information
Knowing the weather risk (frost, drought, storm, flood etc.) of your site on a weekly basis
High speed access to hourly weather time series since 1940 within less than one second
Intelligent spatial aggregations allow area or site comparisons of specific variables on a defined time range
meteoblue expertise helps to find the most accurate dataset for your specific region of interest
Instant availability of smart time aggregations (daily, monthly, yearly) based on hourly values
Intuitive graphical tools allow to quickly understand the weather conditions for any location worldwide
To improve business advantage of your system layout – access meteoblue history data within a matter of seconds
History Products
history+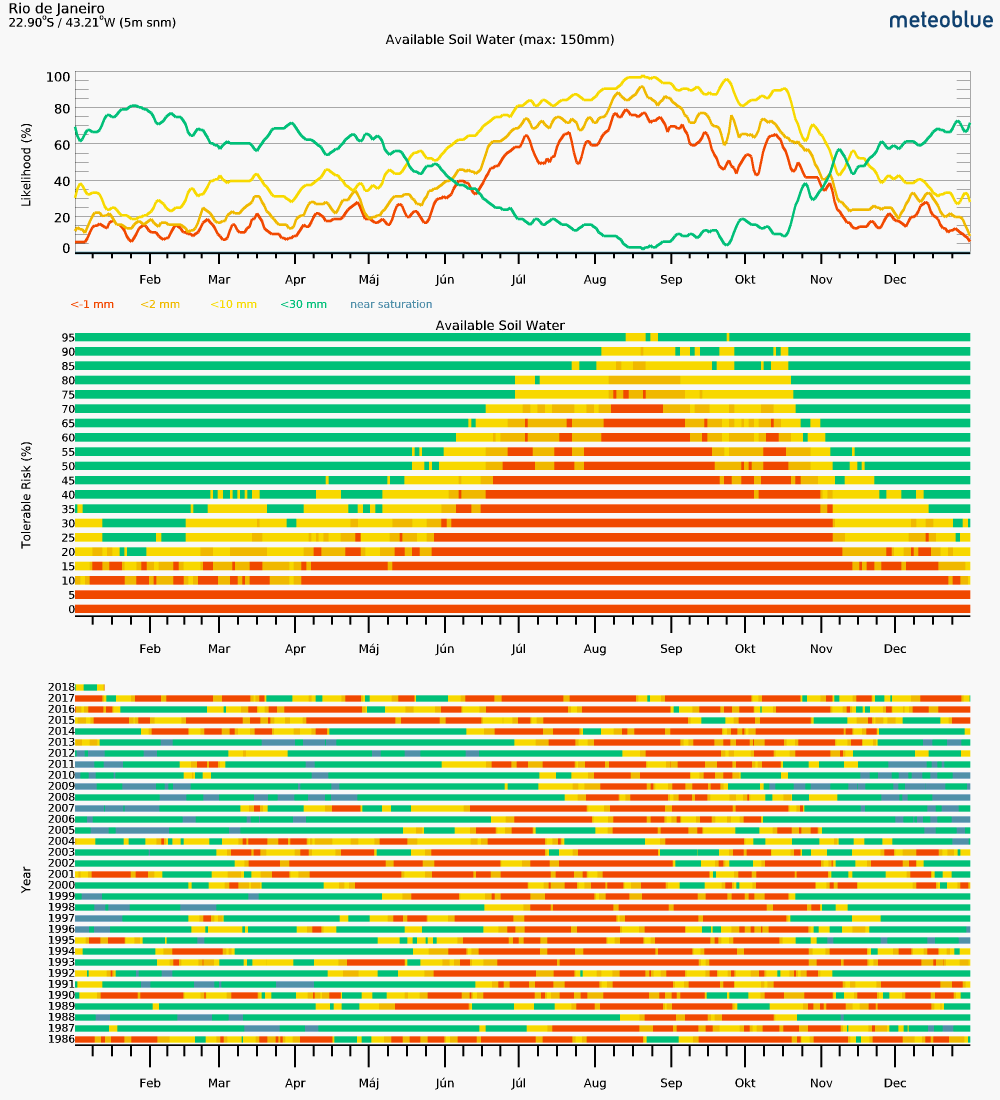 With history+ you get immediate access to the meteoblue weather simulation archive, including unlimited downloads and an interactive interface for data analyses.
Historical data since 1940
Available for the most common weather variables, such as temperature, precipitation, relative humidity, solar radiation, wind speed and wind direction
Interactive tools like year comparison, histogram, wind rose and risk assessment
Multiple formats such as csv and png
100% complete without gaps
Unlimited download for one year
Images (graphics)
meteoblue offers thousands of images from different categories, that can easily be integrated into the your software. These images can be individually customised as they are available in many languages for any location on Earth.
Site comparison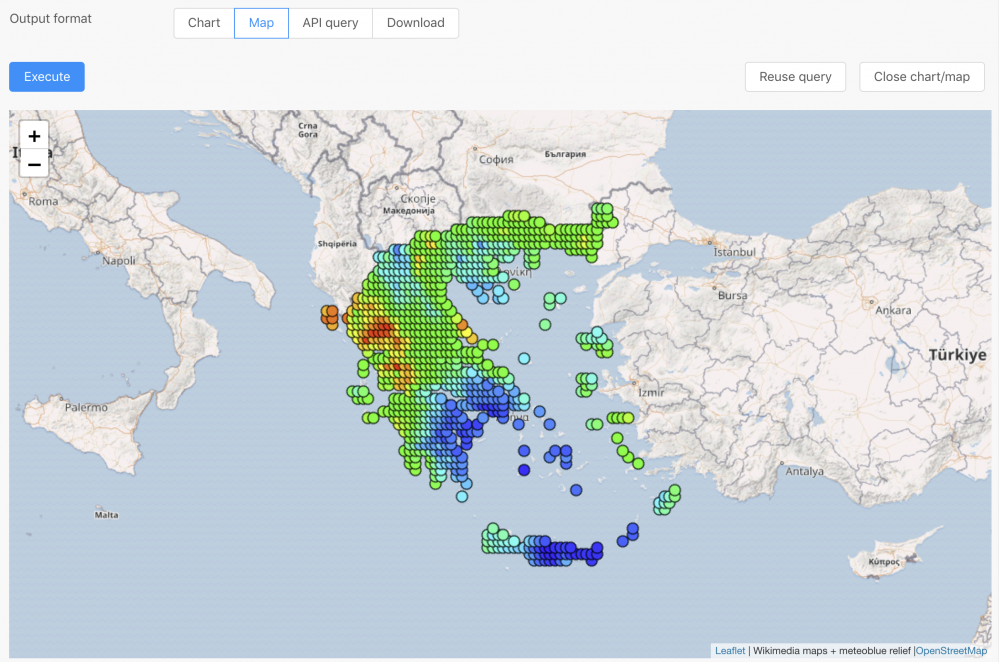 meteoblue offers advanced site assessment tools, that allow comparisons of all common weather variables based on more than 30 different data sources with highest accuracy. This helps to find the perfect location that is suitable for weather and environmental conditions of any site worldwide.
Risk assessment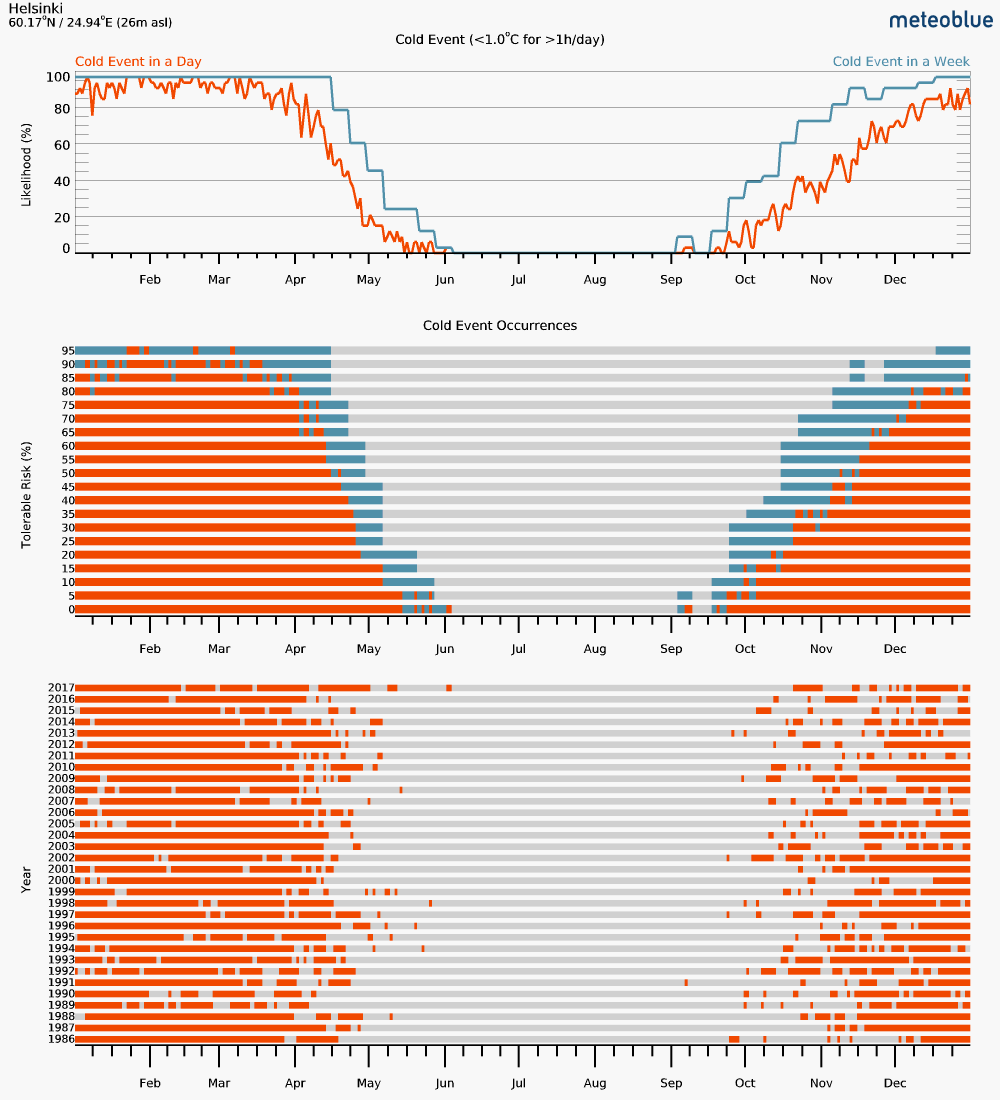 meteoblue offers several risk assessment tools, that bring site assessment to a new level. This is especially useful to assess the frost, heat, flood and drought risk of any location worldwide. The risk assessment tool is available through history+ or API for any location worldwide.
Histogram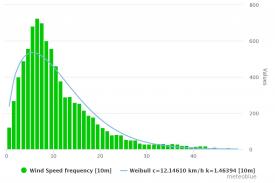 meteoblue offers the histogram functionality including Weibull distribution for a defined time range of up to 30 years. The histogram function is available through history+ or API for any location worldwide.
Year comparison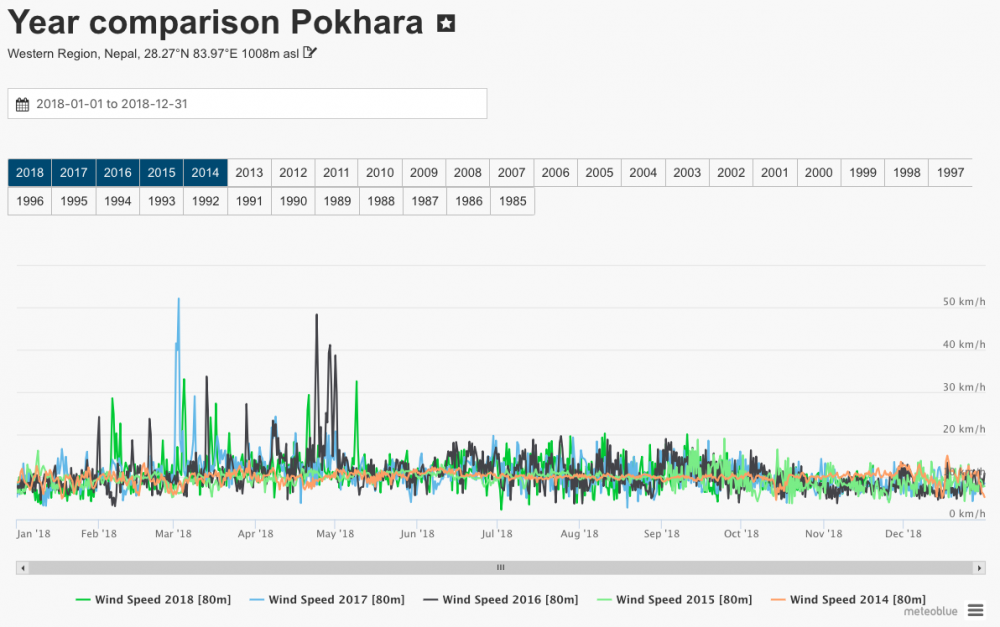 The meteoblue year comparison allows you to compare any of the common weather variables of the current year with any year since 1940 or typical and extreme years. The year comparison is available through history+ or API for any location worldwide.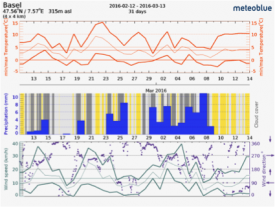 Weather archive diagram
The weather archive diagram offers access to past weather simulations for every place in the world since 2008. You can see weather information for yesterday or the weather archive of the last years. The weather archive diagram is separated in 3 charts for temperature, clouds and wind information.
Weather simulation data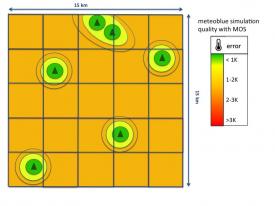 Basically, meteoblue forecasts are calculated with own models and no weather stations. Therefore we are using several weather models with a very high resolution of up to 3 km, which enables the inclusion of detailed topography, ground cover and surface cover. Each forecast is archived by meteoblue at least once daily. From these data, we create a complete hourly history of the weather situation, which we can deliver for every place in the world from 1940 until today.
Data packages (raw data)
For historical weather analyses we recommend the following data packages:
Other weather variables can be provided on demand.
Prices
If you need more information and prices for business purpose, please send us a request to info@meteoblue.com (or click on the "contact us" button below) with the following details:
Desired data package/image:
Approximate number of daily requests (e.g. number of locations x number of daily updates):
If you want to test the meteoblue API for free for 14 days, please also provide the organizational details:
Company name:
Address (street, postal code, city, country, website):
The form was sent successfully.
Thank you for getting in touch, our experts will contact you within a few business days.
If you ordered a copy of the data, please check your mailbox for an e-mail from us.